UPDATED February 27th, 2023
If you are interested in a puppy please fill out our questionnaire so we know a little about your family and dog experience. This will help us to match you with the right puppy for your family and to answer questions you have about the breed.
Pups are current on vaccinations and worming and are family raised in our home. We start house training at an early age and most of our pups are very close to being house trained when they go to their new families!

We are working with Dawg Gone Pet transport if you need your puppy shipped.
If you have any questions you may e-mail me at kayobishibas@gmail.com
Connect with us on Facebook! Kayobishiba
Alaskan Klee Kai are similar in size to the Shiba Inu. They are a UKC recognized breed, not a mixed breed. They are very social with other dogs. They bond closely to their owners and require socialization as they can be very standoffish with strangers.
UPCOMING LITTERS 2023
Windy has puppies that will be available the end of March 2023.
3 red boys and a cream girl and boy are available. A deposit is required to reserve a puppy.
We are planning to breed our Champion Zeita to our friends boy Mack later in 2023.
E-mail us to be added to our waiting list as we do have openings for 2023 puppies!
BEFORE YOU BUY!
If you are looking for a purebred Shiba puppy there are some things you should ask the breeder before you buy. When we have asked people what is most important in a puppy the answer is usually HEALTH and TEMPERAMENT!
1. Does the breeder health test their breeding stock for common health problems in the breed. OFA on hips, eyes and patellas. This is not a 100% guarantee but it is much less likely that your puppy will have these problems that are COMMON in Shibas! Any ethical breeder will be able to provide the clearance # from OFA. We belong to many FB Groups and talk to many Shiba owners and there are a lot of Shibas requiring surgery to fix patellas or remove eyes.
2. Does the breeder show their dogs? I get that most people do not want a show dog, so why is this important? A show dog must be confident, able to have strangers examine him and be able to perform as trained in stressful situations. I have seen many inquiries from people frustrated because their dog is nervous, extremely shy around new people and fearful of normal household activities. This personality is inherited!
3. Can I visit your Shibas. While it is normal for breeders to not allow visitors see newborn puppies, you should be able to visit and see their other dogs. A puppy mill will never let you see their adults. They are fearful of strangers and many of these places have a lot of other breeds and mixes. Puppy mills will meet you off site so you can't see the puppies and how they behave in a familiar setting.
4. Are the parents AKC registered? Again, many people do not care to register their dog so why does this matter to you? AKC has standards of care and will inspect your kennel. Many breeders could not pass AKC inspections for basic cleanliness and care so they made up their own registries, ACA, APRI and CKC. With some of these registries you send in a photo and they will send you a registration paper! No proof that the dog is even purebred. I would NEVER recommend buying a puppy from any breeder using these alternate registries. Often it goes hand in hand with no health testing by OFA and many times these dogs are even mixed with other breeds to create "rare" colors such as pinto's.
If the breeder passes these tests you have a much better chance of getting a healthy puppy with a great personality.
We have a stunning red boy available! He has a nice outgoing personality. He was born December 8th 2022.
Sire CH Kobushi Fire Storm Dam: Kayobi Kiyomi Tangor $2800 plus tax ($2992.50)
We also have a litter born on Christmas Eve! We have a true red sesame boy available.
Sire: CH Kayobi Joujiro
Dam: Tsukime's Brielle at Kayobi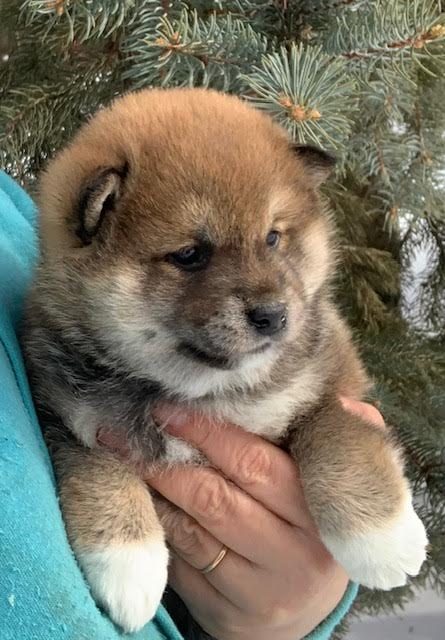 Adorable black & tan boy $2800 plus tax.
We will also be retiring Windy, a 5 year old red girl and Zen a 4 year old red girl after their puppies are weaned in April 2023
If you are interested in one of these girls contact us and we can give you more information.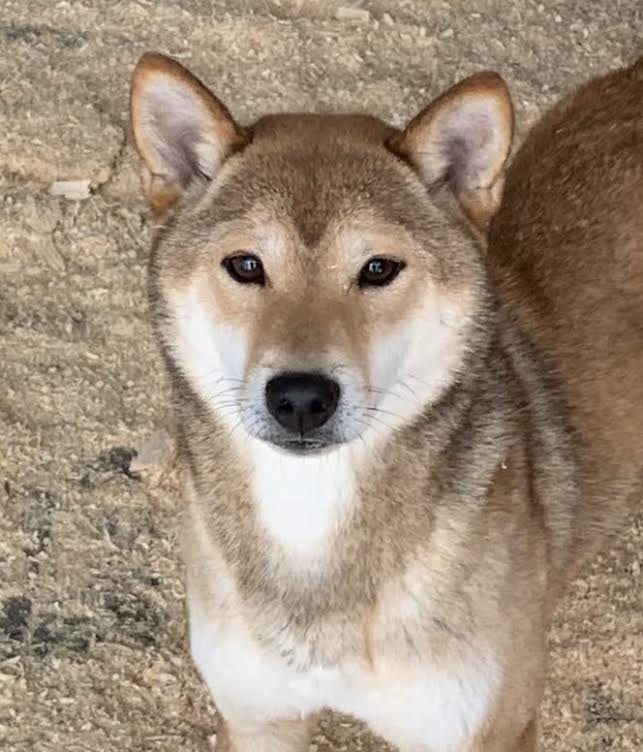 Windy is a bigger girl, gentle and laid back, LOVES treats.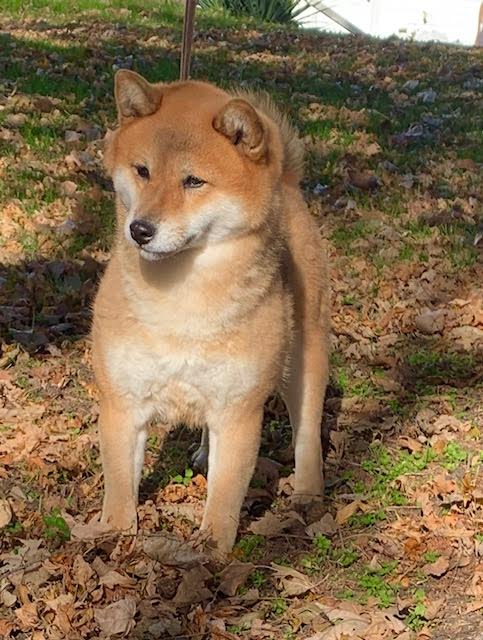 Zen is super smart and a bit of an escape artist. She would do better as an only dog or a bigger male dog.
ALASKAN KLEE KAI PUPPIES AVAILABLE
Skipper and Maggie are expecting puppies on February 5th 2023!
E-mail us to get on the waiting list.
We have a sweet outgoing gray and white Klee Kai boy available. He was born October 4th 2022 and will be miniature in size.
He was born with a coordination disorder that he will outgrow. He has already shown a lot of improvement,
His adoption fee is $600 because of his imperfection.
UPCOMING LITTERS
You are welcome to come to our home to visit when puppies are available. We do not allow visitors for unvaccinated puppies. Please e-mail for an appointment. Times that work best are usually between 9:00 am-3:00 pm If your plans change or you cannot make it at the scheduled time please call and let us know. Due to COVID 19 we are not accepting visitors unless you are picking up a puppy.
Please e-mail kayobishibas@gmail.com for more information about adopting one of our puppies.
All photos are property of Kayobi Shibas and are not to be used or published on another site without written permission.

Ask us about our Extended Family program. This is an opportunity for local families who are interested in showing and breeding purebred Shiba Inu or Alaskan Klee Kai to own a quality show dog at a low cost. We do not charge more for show puppies as a co-ownership is maintained. I will be working with you and your dog to mentor you as you learn about the breed, showing and breeding dogs. Please send me an e-mail if you are interested in learning more!
What Your Puppy Comes With.

Health Record, Current Vaccinations & Worming
Health Guarantee Hips, patellas, heart, eyes included
Temperament Guarantee
AKC or UKC three generation pedigree
House training started.
Puppy Information, Training, schedule etc...
Puppy Pack:Collar, Chewies, Toy, Blanket with mom's scent
Lifetime Support
Contact Information e-mail is preferred, if you do not hear back from us within 48 hours please re-send.
We always get people asking if their pup is a red or sesame. Red and sesame Shiba pups have a smoky gray black color, that will disappear as they grow. The inside of the legs, tummy, chest and face will lighten a lot. As the soft fuzzy baby coat is replaced their adult color will start to show. Fully bright adult color is not achieved until they are about 1 year old.
I also get asked about the full cheeks and beautiful looks of our Shibas. Part of it is breeding, you will not get a puppy with a show type from puppy mill parents. There is also conditioning that is involved as our show dogs are line combed and brushed weekly so their coat grows thick and plush.
Sesame? Dark colored puppies are not necessarily Sesame. The puppy on the right is one of the two dark puppies in the next photo. There are not many breeders in the US with correct sesame Shibas.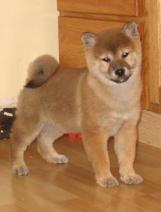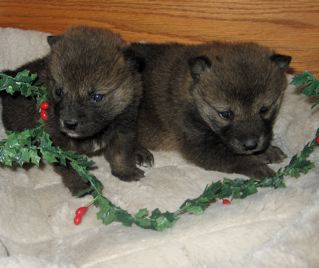 If you do not see what you are looking for please go to www.shibas.org and check their breeder referral list. You may contact people in your area from that list and they will be able to let you know of other reputable breeders in the area.
WE DO NOT RECOMMEND EARLY SPAY OR NEUTER FOR YOUR SHIBA!
Our vet will NOT do this procedure due to unnecessary health risks. I have seen several dogs that I have sold who have been neutered before 12 weeks of age and they look significantly different from other Shibas in their litter. It has been known to cause an increase in orthopedic problems such as hip dysplaysia and patellar luxation, as well as incontinence issues!
The time to spay or neuter is between 6 and 9 months of age. I like to see them at least 16 to 20 pounds.